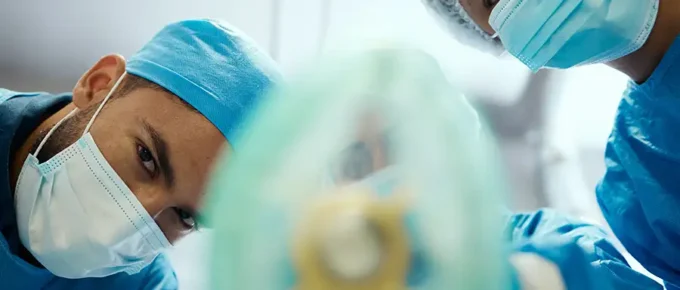 Learn about your right to compensation if your loved one died during surgery because of a medical mistake
Anesthesia deaths may be rare, but that doesn't make them any less devastating, especially when they could have been prevented. For most surviving family members, a lawsuit isn't only about seeking justice; it's also about finding closure and ensuring their loved one's legacy is acknowledged.
This article will discuss some common surgical errors that lead to death and help families understand if their loved one's death may have been the result of medical malpractice.
What is anesthesia?
The first crude forms of anesthesia, with limited effect, were administered thousands of years ago. They began with herbal remedies and alcohol. Opiates were introduced later in the 13th century. General anesthesia now employs intravenous (IV) medicines and inhaled gasses that put the patient to sleep and also prevent their brain from receiving and sending pain signals.
There are 4 types of anesthesia:
Local anesthesia. This anesthesia does not render a patient unconscious. Instead, it numbs only a small part of the body, which is the site of the surgery. This anesthesia is typically used in dental procedures, skin biopsies, and cataract surgeries.
Sedation or "twilight sleep." This type of anesthesia does not put a patient to sleep. Rather, it puts them in a very relaxed state in which they can be awakened if the doctors need to communicate with them during the procedure. It's often combined with local anesthesia and may be used in oral surgeries, cardiac catheterizations, and some colonoscopies.
Regional anesthesia. This type of anesthesia blocks pain in an entire body region, such as below the chest, which is often done during childbirth. The patient remains conscious with regional anesthesia but is pain-free during the procedure.
General anesthesia. This type of anesthesia renders the patient fully unconscious and insensitive to pain anywhere in their body. It's usually administered for surgeries that require the patient to be completely still or involve opening the body, such as open heart surgery.
Anesthesia death statistics
As of 2022, Florida had 349 active hospitals, 32,900 physicians, 2,900 surgeons, and 2,800 anesthesiologists. Fortunately, anesthesia errors are uncommon, but when they do happen, they often lead to permanent disabilities or death.
In 2009, the professional journal Anesthesia published a study of anesthesia death rates during the period from 1991 to 2005. The study abstract referenced earlier studies that showed a declining incidence of anesthesia deaths.
It declined from 1 death in 1,000 procedures in the 1940s to 1 death in 10,000 in the 1970s to 1 death in 100,000 procedures in the 1990s. The decline was attributed principally to the development of new anesthesia techniques, drugs and training.
During a 7-year study period from 1999 to 2005, there were 2,211 anesthesia-related deaths. Of the anesthesia-related deaths:
46.6% were deaths from anesthesia overdose
42.5% were due to adverse effects of therapeutic use
3.6% occurred during childbirth
7.3% from other complications
Many studies purport to show that the incidence of anesthesia-related deaths has been declining in recent years. However, this assessment is not universally accepted.
In 2002, anesthesiologist Lagasse published a study in Anesthesiology that challenged the prior assessment of anesthesiology mortality.
Lagasse's data from 2 academic New York hospitals between 1992 and 1999 showed an incidence of anesthesia-related deaths of 1 death per 13,176 surgeries. That rate is much higher than data reported by other widely accepted studies, showing an incidence of 1 anesthesia-related death per 100,000 to 200,000 surgeries.
Common anesthesia errors that lead to death
Anesthesia, while generally safe under the guidance of skilled professionals, has inherent risks. Mistakes or oversights in administering anesthesia can have severe consequences, including death. Some common anesthesia errors that can be fatal include the following:
Overdose. Administering too much anesthesia can suppress the patient's vital functions, such as breathing or heart rate, leading to brain damage or death.
Underdose. Giving too little anesthesia can result in anesthesia awareness, where a patient regains consciousness during surgery. The trauma, both physically and mentally, from waking up during surgery can lead to various complications, including fatal ones.
Failure to monitor. It's crucial to continually monitor the patient's vital signs and overall condition while under anesthesia. Failing to notice and react to changes can lead to oxygen deprivation, brain damage and death.
Delayed anesthesia delivery. Malfunctions or mistakes in the anesthesia delivery system can lead to a delay in the onset of anesthesia, causing the patient to experience pain or anesthesia awareness.
Intubation errors. Problems with placing the breathing tube, such as placing it in the esophagus instead of the trachea, can lead to oxygen deprivation and death.
Adverse drug interactions. Some drugs can negatively interact with anesthetics. An anesthesiologist must be aware of all medications a patient is taking to prevent harmful interactions.
Improper patient preparation. Patients must be given proper instructions before surgery, such as fasting guidelines. Failing to provide or ensure these guidelines can result in complications like aspiration, where stomach contents enter the lungs, which can lead to death.
Allergic reactions. Some patients might be allergic to certain anesthetic agents. It's essential to conduct a thorough review of a patient's medical history and allergies to prevent a fatal allergic reaction.
Equipment malfunction. Anesthetic equipment must be regularly checked and maintained. Faulty equipment can lead to inaccurate drug or oxygen delivery.
Poor communication. Effective communication between medical staff is crucial. Miscommunications regarding patient history, drug dosages, or other pertinent information can lead to preventable errors with dire consequences.
When anesthesia errors occur, the consequences can be devastating. It's essential for medical professionals to exercise the utmost care before, during and after the procedure to ensure patient safety.
When are anesthesia errors considered medical malpractice?
Medical negligence claims are a category of personal injury tort claims. A claim for a personal injury requires the plaintiff to prove the following elements:
The defendant had a duty of care to the plaintiff.
The defendant failed in that duty.
The defendant's failure was the proximate cause of the harm to the plaintiff.
For doctors, "duty of care" refers to the level of care that any other responsible health care professional with similar training and experience would provide in similar circumstances. When a medical professional fails to meet that standard of care and an injury or death occurs, they may be liable for medical malpractice.
Who may be liable in a wrongful death medical malpractice lawsuit?
In a wrongful death medical malpractice lawsuit, several parties may be potentially liable, depending on the circumstances of the case. Here are some parties that could be held accountable:
Health care professionals. Medical professionals, including doctors, surgeons, nurses, anesthesiologists, or other health care providers directly involved in the patient's care, may be held liable if their negligent actions or medical errors contributed to the wrongful death. Examples could include misdiagnosis, surgical errors, medication errors, or failure to provide appropriate treatment.
Health care facilities. Hospitals, clinics, nursing homes, or other healthcare facilities may be held liable for the wrongful death if their negligence or systemic failures, such as inadequate staffing, lack of supervision, or improper policies and procedures, played a role in the patient's demise.
Pharmaceutical companies. If the wrongful death was caused by a defective drug or medication, the pharmaceutical company responsible for manufacturing or distributing the product may be held liable for their negligence or failure to warn of known risks or side effects.
Medical device manufacturers. If a faulty or defective medical device contributed to the wrongful death, the manufacturer or distributor of the device may be held liable for product liability claims.
Supervising physicians or medical directors. Physicians or medical directors who have supervisory responsibilities over the health care professionals involved in the patient's care may also be held liable for their failure to properly supervise or intervene when necessary.
Who can sue for wrongful death in Florida?
"Wrongful death" refers to a legal claim that arises when a person's death is caused by the negligence, wrongful act, or misconduct of another person or entity. In a wrongful death case, certain surviving family members or beneficiaries may bring a civil lawsuit against the responsible party to seek damages for their loss.
As a general legal rule, a plaintiff must have "standing" to sue for damages. Florida Statutes § 768.18 restricts the survivors who can file a wrongful death lawsuit. They are the deceased person's:
Legally married spouse
Biological or adopted child under 25 years old
Biological or adoptive parent
Additionally, this statute allows relatives who relied on the deceased person for financial support to file a wrongful death lawsuit on their loved one's behalf.
Types of wrongful death compensation
In a wrongful death lawsuit, family members can typically seek to recover the following types of damages:
This includes the financial contributions the deceased would likely have made to the survivors and beneficiaries had they lived. Examples include:
Lost wages and benefits, including what the deceased would likely have earned in the future.
Medical expenses incurred prior to death.
Funeral and burial costs.
Non-economic damages
These are intangible losses that don't have a direct economic value. They include:
Loss of companionship, affection, love and moral support.
Loss of guidance, care and nurturing from a deceased parent to their child.
Loss of consortium from a deceased spouse.
Not available in all jurisdictions or cases, punitive damages are intended to punish the defendant for particularly egregious or reckless conduct and deter similar behavior in the future.
It's important to note that the types of damages and the eligibility of certain family members to recover these damages can vary by jurisdiction. An experienced wrongful death attorney can help determine the potential value of your claim.
Tampa cosmetic surgeon pays a $250,000 settlement after Brazilian butt lift death
In June 2023, the Florida Board of Medicine took disciplinary action against a Tampa cosmetic surgeon, Dr. Joseph Castellano, following the death of a patient, 35-year-old Audrey Torres. Ms. Torres lost her life after undergoing a Brazilian butt lift procedure performed by Dr. Castellano.
An investigatory report revealed that during the operation, Ms. Torres' oxygen levels fell dramatically, and she later died at Memorial Hospital due to a "fat emboli," a condition where fat particles block circulation. Evidence indicated that Dr. Castellano violated a Florida Department of Health rule, which bans certain types of fat injections, a rule implemented in September 2019.
Dr. Castellano had earlier settled a medical malpractice lawsuit related to the incident for $250,000, meant to support Torres's young son. The board's settlement with Dr. Castellano includes issuing him a letter of concern, imposing a $10,000 fine, mandating additional education, and prohibiting him from performing Brazilian butt lifts in the future.
Is there a cap on wrongful death compensation?
Florida law imposes no caps on either medical malpractice lawsuits or wrongful death lawsuits, including deaths from anesthesia overdose. In 2014, the Florida legislature tried to enact caps similar to other states, but the Florida Supreme Court ruled that such limits are unconstitutional.
What is the statute of limitations for wrongful death lawsuits in Florida?
All states have statutory time limits for commencing a lawsuit. The public policy reason is that evidence gets stale with time because witnesses die or their memories fade.
In Florida, the statute of limitations for wrongful death actions is 2 years from the date of death. Failure to file a lawsuit by this date will prevent family members from recovering any compensation.
Contact an experienced Miami wrongful death attorney
If you've lost a loved one because of medical negligence involving anesthesia, it's crucial to seek out an attorney with specialized knowledge of both wrongful death laws and medical technology.
At Redondo Law, attorney Mike Redondo has extensive experience helping families get the justice and compensation they deserve after a fatal medical error. He's proud to offer free consultations in both English and Spanish to answer your questions and help you understand how the legal process works.
Contact his office today to learn more.