Helping spinal cord injury victims in Miami get the justice and compensation they deserve
Spinal cord injuries can have life-altering effects, dramatically impacting the injured individual and their entire family. These severe injuries often result from accidents that could have been avoided, making the path to recovery not just physical but also legal.
If you or a loved one has suffered a spinal cord injury in Miami, it's crucial to understand how different types of spinal injuries can affect your long-term health and the amount of compensation you may be entitled to.
At Redondo Law, our Miami catastrophic injury attorneys specialize in spinal cord injury claims. We'll use our extensive legal and medical knowledge to fight for maximum compensation for your injuries.
Contact our office today to arrange a free consultation.
The answers to your most pressing questions are just a phone call away.
What does the spinal cord do?
The spinal cord is a critical part of the central nervous system, serving as the main pathway for transmitting information between the brain and the rest of the body.
It's a long, tubular bundle of nervous tissue that extends from the base of the brain down the vertebral column, allowing you to feel sensations like touch, temperature and pain. It also transmits motor signals from the brain to various parts of the body, enabling you to move muscles and perform complex actions.
How do spinal cord injuries impact body function and movement?
The severity of a spinal cord injury typically depends on the location of the injury. Generally, the higher the level of the injury on the spinal cord, the more severe the consequences.
Injuries to the upper part of the spinal cord, such as the cervical region, tend to result in more widespread and severe impairments, affecting both the upper and lower body. On the other hand, injuries to the lower regions, like the lumbar or sacral areas, typically have more localized effects.
Here's a breakdown focusing on the level of injury:
Cervical injuries (C1-C7). These injuries occur in the neck area and are the most severe, potentially leading to quadriplegia or tetraplegia (total paralysis). Injuries to this area generally affect all 4 limbs and may necessitate mechanical assistance for breathing. Although with some lower cervical injuries, there may be movement in one or both arms and hands.
Thoracic injuries (T1-T12). These are injuries to the upper or middle back that mainly affect the chest and legs. Paraplegia is common in these cases, but the arms and hands are usually not affected.
Lumbar injuries (L1-L5). These are injuries to the lower back that typically result in some form of paraplegia affecting the hips and legs. However, individuals may still be able to walk with assistive devices.
Sacral injuries (S1-S5). These injuries occur in the lowest part of the spinal cord and primarily affect the hips, thighs, and pelvic organs. Mobility is often less compromised, but like all spinal injuries, bladder, bowel and sexual function may still be impacted.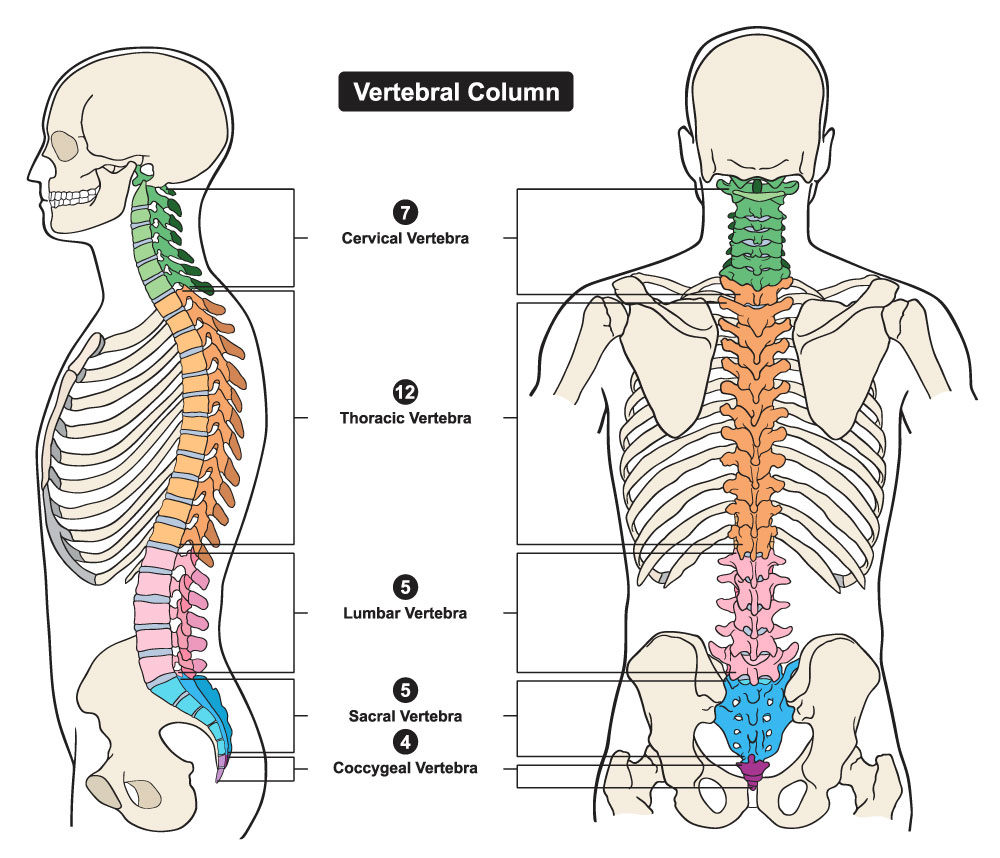 Understanding the level of a spinal cord injury is crucial for prognosis, treatment and management, as it directly correlates with the extent of impairment an individual will experience.
Is a back injury the same as a spinal cord injury?
No, a spinal cord injury is not the same as a back injury, although the terms are sometimes used interchangeably. Here are the key differences:
A spinal cord injury specifically involves damage to the spinal cord itself, which is the bundle of nerves that runs down the middle of your back and transmits signals between your body and your brain. Injuries to the spinal cord are considered catastrophic injuries that can result in partial or complete loss of motor control and sensation, potentially leading to paralysis.
A back injury, on the other hand, can refer to any number of conditions that affect the muscles, bones or other tissues in the spine and back. These could include herniated discs, fractured vertebrae or muscle strains. While back injuries can be painful and debilitating, they generally do not carry the risk of paralysis unless they progress to a more severe form that impacts the spinal cord.
Both types of injuries can result from similar causes, such as car accidents or falls, but the legal and medical implications can differ substantially. It's crucial to get an accurate diagnosis to understand the severity of the injury and to guide treatment and potential legal action.
Can you fully recover from a spinal cord injury?
The potential for full recovery from a spinal cord injury varies depending on the severity and location of the injury, as well as how quickly treatment is administered.
In general, complete spinal cord injuries, where there is a total loss of function below the level of injury, have a lower likelihood of full recovery. Incomplete spinal cord injuries, where some function remains below the injury site, offer a better chance for some level of recovery.
Advances in medical technology and rehabilitation techniques have improved outcomes, but full recovery is still rare in severe cases.
When can I sue for a spinal cord injury?
Spinal cord injuries can result from a variety of accidents. Some of the most common accidents that frequently lead to spinal cord injury lawsuits include the following:
Regardless of the type of accident you were injured in, if you want to file a lawsuit for a spinal cord injury, you'll need to establish that someone else was negligent and that their negligence directly resulted in your injury.
Negligence could be a reckless driver, a property owner who failed to maintain a safe environment, or even a health care provider who made a grave error during a surgical procedure. Essentially, you must prove that the party you are suing had a duty to act (or not act) in a certain way, failed in that duty, and that failure caused your injury.
What is the financial burden of a spinal cord injury?
Spinal cord injuries carry a significant financial burden, especially during the first year after the accident, but often for a lifetime.
To give you a general idea of the cost, injuries to the C1-C4 region (the most severe spinal cord injuries) cost an average of $1.3 million the first year and $240,000 each year thereafter. Injuries to the thoracic region and below (less severe spinal cord injuries) cost about $665,000 on average the first year and about $88,000 each subsequent year.
Given the astronomical costs associated with treating and managing spinal cord injuries, it's crucial to consult a personal injury attorney who has experience in these types of cases. Without proper legal guidance, you may not receive the financial support you need for your immediate and long-term care.
*Estimates are based on 2009 data published in the medical journal Topics in Spinal Cord Injury Rehabilitation and have been adjusted for inflation in 2023.
Understand the time limits for filing a personal injury claim in Florida.
How much compensation will I get for a spinal injury?
The amount of compensation you can receive for a spinal cord injury varies widely and depends on the specifics of your case, including the severity of the injury, the impact on your life, the extent of ongoing treatment needed, and the circumstances of the accident.
However, compensation can generally be divided into 2 categories:
Economic damages
If someone else is responsible for your spinal cord injuries, Florida law entitles you to pursue compensation for your financial losses, known as "economic damages." They include:
Medical expenses (past and future)
Lost income
Reduced future earning capacity
Property damage
Non-economic damages
In addition, you may be entitled to pursue "non-economic damages" such as:
Pain and suffering
Reduced quality of life
Emotional distress
Loss of consortium
These types of damages are much more difficult to estimate because they don't have a specific cost that can be easily calculated.
Punitive damages
The primary purpose of punitive damages is to punish the defendant for egregious or intentionally harmful behavior and to serve as a deterrent to others from engaging in similar conduct. In personal injury cases, punitive damages are generally awarded only in situations where the defendant's actions were particularly malicious, reckless or grossly negligent, showing a blatant disregard for the safety and well-being of others.
Unlike economic and non-economic damages, which are meant to make the victim "whole" again, punitive damages are specifically designed to penalize and deter misconduct.
Because the stakes are so high in spinal cord injury cases, it's critical to consult an attorney to help you determine the full value of your claim.
How can a Miami spinal cord injury attorney help me recover compensation?
An experienced personal injury attorney will guide you through the process of filing a claim for recovery, starting with presenting your case to an insurance adjuster. They will gather critical evidence, like photographs, physical objects, eyewitness testimony, and expert witness testimony, in order to put a monetary value on your claim.
If the insurer fails to offer a compensation amount that is sufficient to make you "whole," your personal injury attorney will present your case to a judge or jury in a Florida court of law. Taking a case to trial is a time-intensive and often stressful endeavor, but a skilled personal injury lawyer can handle all the details so you can focus on healing and moving forward after your accident.
Contact our Miami personal injury law firm
If you or a loved one suffered a spinal cord injury due to someone else's negligence in the Miami area, you don't have to navigate this complex legal journey alone. With hands-on experience in spinal cord injury cases, experienced personal injury attorney Mike Redondo knows how to fight for the compensation you deserve.
Previously, Mike spent years representing insurance companies to minimize their liability in personal injury cases. Now, he leverages that insider knowledge to maximize settlement awards and judgments for victims like you.
Don't wait—fill out the form below to schedule your free consultation with Redondo Law today.
References
Cao, Y., Chen, Y., & DeVivo, M. (2011). Lifetime Direct Costs After Spinal Cord Injury. Topics in Spinal Cord Injury Rehabilitation, 16(4), 10–16. https://doi.org/10.1310/sci1604-10