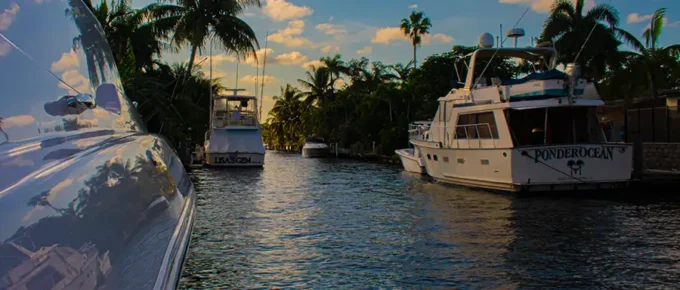 Florida, often called the "Boating Capital of the World," is renowned for its pristine waters and bustling marine activities. However, with great beauty comes great responsibility. The Florida Fish and Wildlife Conservation Commission (FWC) recently released its 2022 Boating Accident Statistical Report, shedding light on the strides made and the areas that need attention.
While Florida's waters are a haven for marine enthusiasts, they aren't without their dangers. Boating accidents, unfortunately, are a grim reality in the Sunshine State.
Every year, many individuals and families face the devastating impact of these accidents, ranging from minor injuries to catastrophic events. The primary causes often include operator inattention, inexperienced boaters, and unfavorable weather conditions.
Navigating the aftermath of such accidents can be physically and emotionally overwhelming. If you or a loved one has been affected by a boating accident in Florida, having an experienced legal ally can make all the difference.
Progress and insights from 2022
In a positive stride for boating safety in Florida, 2022 witnessed a reduction in boating accidents compared to the previous year.
The number of recorded boating accidents in 2022 was 735, down from 751 in 2021.
Lt. Col. Brian Smith, Acting Director for the FWC Division of Law Enforcement, commented, "We had fewer boating accidents in Florida in 2022 than we did in 2021 but fatalities statewide were up. I am proud of the effort our officers and boating and waterways staff put into getting boating safety messaging out to the public throughout the year and my hope is we will see both of these statistics decrease next year."
Top 10 Florida counties with reported boating accidents
Florida's vast coastline is divided into numerous counties with unique marine challenges and boating cultures. Knowing which counties had the highest number of boating accidents helps us identify where efforts need to be channeled.
Monroe County
Miami-Dade County
Palm Beach County
Pinellas County
Lee County
Okaloosa County
Broward County
Hillsborough County
St. Johns County
Sarasota County
Spotlight on Miami-Dade County
Miami-Dade is one of the pivotal counties for boating activities in Florida. Delving into its specific statistics provides an understanding of localized trends and areas for improvement.
Types and causes of boating accidents in Miami-Dade County
Miami-Dade presents a diverse range of boating accidents, from collisions with other vessels to the challenges of natural elements.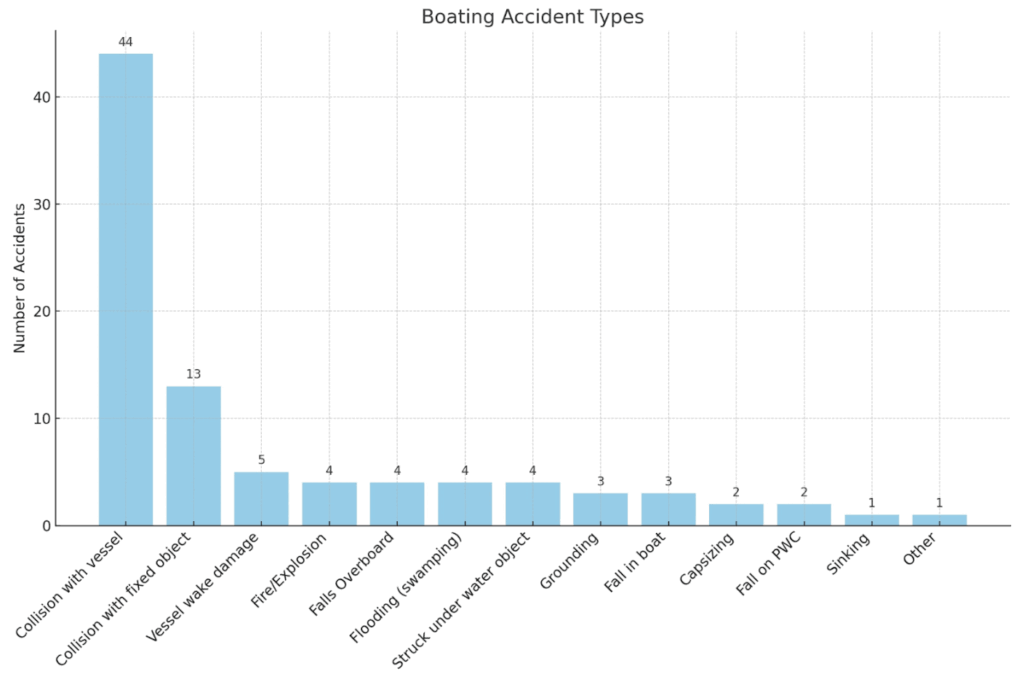 The top human errors (seen below) highlight the need for comprehensive boating education:
Operator inexperience
No proper lookout
Operator inattention
Common types of vessels reported in accidents
Different vessels present unique challenges. In Miami-Dade, the following types were most commonly involved in accidents:
Cabin motorboat
Personal watercraft (PWC)
Open motorboat
In 2022, in the known locations of accidents in Miami-Dade County, there were 5 fatal accidents, 33 accidents with injuries, and 52 accidents without injuries.
Did you know?
PWC stands for personal watercraft.
It is often referred to by popular brand names like "Jet Ski" (Kawasaki), "WaveRunner" (Yamaha), or "Sea-Doo" (BRP), which is a small boat that's akin to the motorcycle of the sea. It's specifically crafted to be ridden by an individual in a sitting or standing position. These vessels utilize an inboard jet drive as their primary source of propulsion.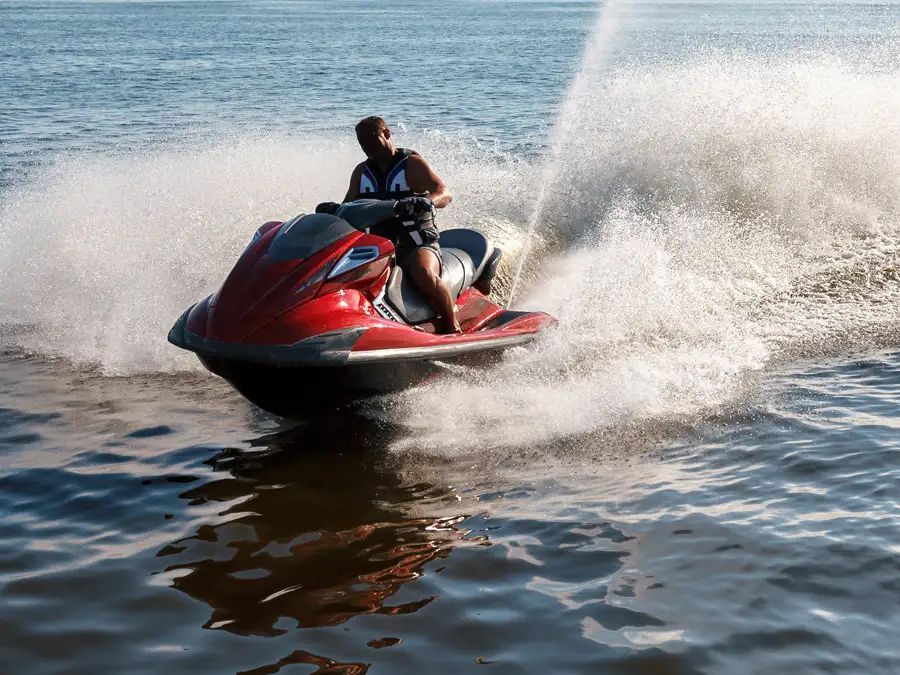 PWCs are renowned for their high maneuverability and are predominantly used for recreational purposes. They can usually accommodate 1 to 3 riders.
Due to their agility and speed, they are favored for various water-based activities. However, it's essential to note that they come with their own distinct set of safety concerns. Additionally, the U.S. Coast Guard classifies PWCs as Class A inboard boats.
Most common types of injuries from boating accidents
Boating accidents can lead to many injuries, each attributed to various causes.
The top 5 injuries are:
Lacerations. Often caused by sharp objects, debris or parts of the boat.
Contusions. Result from impacts or collisions within the boat or with other objects.
Broken bones. High-impact crashes or being thrown against hard surfaces onboard.
Head injuries. Falling overboard, collision impacts or being hit by objects.
Back injuries. Result from hard landings, being thrown off seats or heavy gear shifting.
The power of boating safety education
With Miami-Dade spearheading boating safety initiatives, the issuance of boating ID cards reflects the efforts to encourage boater education. However, there remains a crucial need to amplify the reach and impact of these initiatives.
Miami-Dade: 3,214 ID cards
Palm Beach: 1,994 ID cards
Broward: 1,844 ID cards
72% of ID cards were issued to male operators. A concerning 70% of operators involved in fatal accidents lacked proper boating education.
"Life jackets save lives"
Even skilled swimmers drown.
Contrary to popular belief, possessing advanced swimming skills does not grant immunity from the unpredictable dangers of open waters.
Water conditions, such as sudden currents, undertows or unexpected waves, can catch even the most experienced swimmers off guard, while fatigue, cramps or injuries can compromise a person's ability to stay afloat.
Collisions with boats or other watercraft, unseen obstacles beneath the water's surface, or becoming entangled in underwater vegetation can also pose significant threats.
Life jackets are still the most underrated life savers, regardless of one's proficiency in swimming.
While the importance of life jackets has been continually emphasized, misconceptions abound. Florida's "Wear It" campaign is dedicated to debunking these myths and emphasizing the irreplaceable role of life jackets in ensuring safety.
Debunking myths about the need for life jackets
"I'm an excellent swimmer!" – More than half of Florida's boating fatalities are due to unexpected falls.
"I have experience!" – Experience doesn't guarantee safety. Most of Florida's boating fatalities involve experienced men over 30.
"Life jackets are uncomfortable." – Inflatable life jackets are light, compact and provide twice the buoyancy.
"Who notices?" – Loved ones will, especially when you aren't around due to an avoidable mishap. Set a positive example.
Progress, yet miles to go
Florida's waters remain a haven for marine enthusiasts. And while strides have been made in enhancing safety, the journey is ongoing. It's a collaborative effort—between authorities, communities and individuals—to ensure that Florida retains its title as the "Boating Capital of the World" in beauty and safety.
If you've suffered injuries in a boating accident or lost a loved one to such a tragedy, we understand your pain and the complexities involved.
You might be entitled to compensation. To discuss your situation, schedule a free consultation with our injury attorney by completing the form below. We will provide the information you need to make the best decision for your situation.