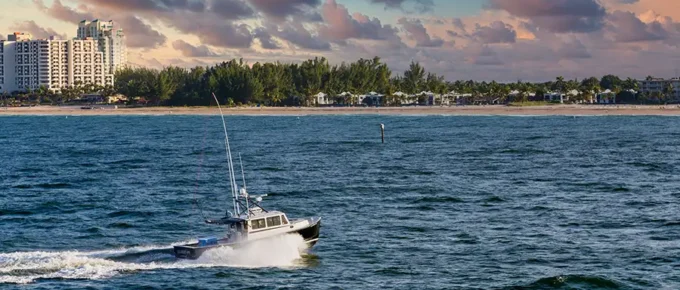 With its vast coastline and picturesque waterways, Florida is a haven for boating enthusiasts. The state's waters are bustling year-round with recreational boaters and serious fishermen, earning Florida the well-deserved nickname "Boating Capital of the USA."
However, with this high activity level comes the unfortunate reality of boating accidents.
In this article, we'll explore the latest statistics on when and why these accidents occur and the legal avenues available to victims.
Florida boating statistics: A glimpse into our maritime landscape
2022 saw many boating accidents on Florida's waterways, each with its own story and circumstances. To prevent future tragedies, it's essential to understand when and why these incidents happen.
Popular months of the year when boating fatalities occur
So, when are you most likely to be involved in a fatal boat crash in Florida?
May and June emerged as the deadliest months, with 12 and 10 fatalities, respectively.
July and August followed with slightly fewer incidents, reporting 5 and 8 fatalities, respectively.
| Month | Fatalities |
| --- | --- |
| May | 12 |
| June | 10 |
| July | 5 |
| August | 8 |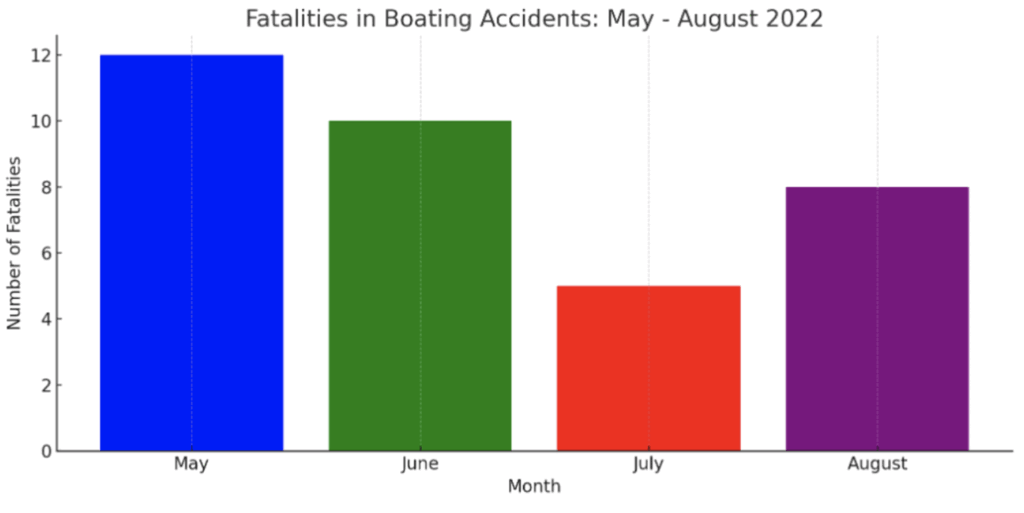 Peak hours when most boating accidents occur
The hours between 4 to 6 p.m. Eastern were particularly perilous, marking the highest frequency of accidents. This could be attributed to factors such as reduced visibility during sunset and increased water traffic as people wrap up their day's activities.
Leading causes of most Florida boating accidents
Falls overboard were the most commonly identified type of boating accident. Other top causes of boating accidents in Florida include the following:

Alcohol involvement
Unfavorable weather conditions
Excessive speed

Interestingly, the primary cause of accidents was categorized as "Other," pointing to a variety of reasons not specified in the main categories.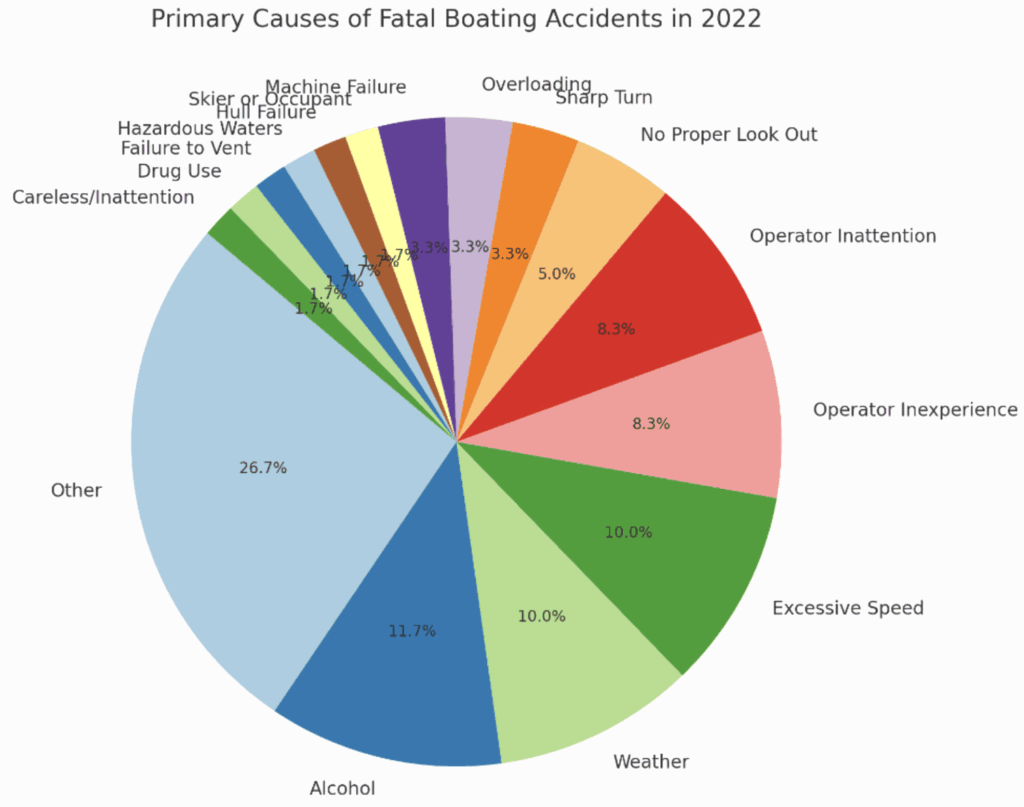 Demographics and details of boating accident victims
Below are some notable statistics relating to boating accident demographics in Florida:
A significant 97% of accidents involved male operators aged 36 and above.
80% of the victims were Florida residents, highlighting the need for local awareness campaigns.
85% of victims were male.
Disturbingly, 34% of the accident victims couldn't swim.
Did you know?
From 2018 to 2022, the number of registered vessels in Florida surged from 950,740 to 1,029,993—an increase of approximately 8.34%.
Miami-Dade County is one of the top counties in Florida for boating accidents, and it frequently reports collisions with other vessels as the predominant type of mishap. Notably, operator inexperience stands out as the chief cause behind these accidents.
Injured in a boating accident? You have legal options.
For those unfortunate enough to experience a boating accident, the aftermath can be overwhelming. Understanding your rights and legal avenues can be instrumental in securing the justice and financial compensation you deserve.
Personal injury claims
If you've been injured in a boating accident due to someone else's negligence or recklessness, you have the right to seek compensation. This compensation can cover medical bills, lost wages, pain and suffering, and other damages.
Having a seasoned attorney by your side can make a significant difference in navigating the complexities of personal injury law.
I was in a boating accident; what's the deadline for filing a lawsuit in Florida?
In Florida, the general timeframe to file most personal injury claims is 2 years from the date of the incident.
However, in specific scenarios like medical malpractice, nursing home abuse, and product liability, the clock starts from the date the injury was discovered.
To delve deeper into filing deadlines for different types of accidents, read more about the Florida Statute of Limitations.
My family member died in a tragic boating accident. What are my legal options?
In the tragic event of a fatal boating or fishing accident, the deceased's family can file a wrongful death lawsuit against the responsible party.
While no amount of compensation can replace a loved one, it can help cover funeral expenses and loss of income, offering some much-needed financial relief during a challenging time.
If the accident occurred in Miami-Dade County or nearby communities, consult a local boating accident attorney familiar with the region. An attorney who is well-versed in local maritime laws and has a proven track record of successful wrongful death boating cases is essential for helping families recover maximum compensation after these types of tragic accidents.
Safety first: Tips for Florida boaters
The statistics discussed throughout this article paint a clear picture: Safety should be paramount. Here are some essential tips:
Equip your boat. Ensure you have life jackets for everyone onboard. Remember, 81% of drowning victims from boating accidents weren't wearing a life jacket.
Stay informed. Be aware of the weather forecast and avoid boating during unfavorable conditions.
Avoid alcohol. With alcohol being a leading cause of accidents, saving the drinks for when you're safely ashore is best.
Take a boating safety course. Knowledge is power. Equip yourself with the skills and information you need to navigate Florida's waters safely.
Please note: The Florida Fish & Wildlife Conservation Commission is not just a regulatory body; it's also a treasure trove of information, especially for those passionate about fishing and boating.
They offer an extensive boating education resource that's tailored to suit everyone, from novices to seasoned boaters. Their comprehensive boating education covers essential safety protocols, best practices, and much more to ensure a safe and enjoyable experience on the water.
When accidents occur, talk to our Miami injury attorney
Boating is one of Florida's most cherished activities. By staying informed and prioritizing safety, we can ensure it remains a joyous pastime for all. Should the unthinkable happen, know that legal avenues are available to help Florida victims and their families navigate the aftermath.
Redondo Law stands ready to assist you in finding the necessary proof to establish accountability and hold the negligent parties accountable, ensuring you receive optimal compensation.
Fill out the form below to schedule your free consultation.