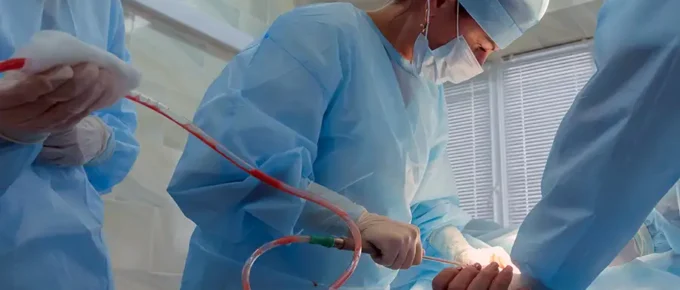 In recent years, cosmetic surgery, particularly the Brazilian butt lift, has grown in popularity in Miami. With a rising number of women (and men) seeking the perfect curves, cosmetic clinics catering to butt augmentation procedures have quickly multiplied. However, beneath the veneer of beauty lies a distressing truth—a surge in fatalities has been linked to these procedures despite efforts to curb the risks.
What's the Brazilian butt lift procedure?
A Brazilian butt lift (BBL) is a cosmetic surgical procedure designed to enhance the shape and appearance of the buttocks. It involves removing excess fat from areas of the body through liposuction, such as the abdomen, thighs or flanks, and then transferring that fat to the buttocks to create a fuller, rounder and more lifted appearance.
The procedure typically follows these steps:
Fat harvesting. The surgeon performs liposuction on areas with excess fat. This fat is carefully collected, often through a gentle liposuction technique, to preserve the integrity of the fat cells.
Purification. The collected fat is then processed to remove impurities and fluids, leaving behind the viable fat cells that will be used for the transfer.
Fat injection. The purified fat is strategically injected into various layers of the buttocks to achieve the desired shape and volume. The injections are carefully distributed to ensure natural-looking results.
Sculpting and contouring. Finally, the surgeon sculpts and contours the buttocks to create symmetry and proportion, ideally achieving a harmonious balance with the rest of the body.
As with any surgical procedure, there are potential risks and complications associated with a Brazilian butt lift, so individuals considering a BBL should do their research and consult with a board-certified plastic surgeon who specializes in them.
Brazilian butt lift deaths raise concerns
A recent investigation by NBC 6 shed light on a concerning trend involving Brazilian butt lift procedures in South Florida, including Miami's vibrant surroundings. The report revealed a distressing surge in deaths linked to this popular cosmetic surgery, prompting scrutiny and calls for improved safety measures.
The investigations exposed a series of fatalities following BBL procedures in various clinics across South Florida. Disturbingly, multiple deaths occurred on the same day, highlighting a potential lack of adequate precautions during these surgeries.
Experts attributed the rise in fatalities to factors such as exhaustion and distractions resulting from surgeons performing multiple procedures in a single day. These factors and the invasive nature of BBL surgery have raised serious concerns about patient safety.
In response to these alarming findings, a plastic surgery task force was formed to investigate BBL procedures further. Recommendations from this panel emphasize avoiding muscle penetration during surgery and utilizing ultrasound technology for precise guidance.
The legal implications of these deaths are significant. The state has accused certain practitioners of medical malpractice, alleging a failure to adhere to standard care protocols. Emergency orders have been issued to halt certain surgeons' practices until their cases are heard.
Injury risks associated with Brazilian butt lifts
Brazilian butt lift procedures can offer transformative results, but they come with inherent risks, just like any surgical procedure. It's crucial to consult with a qualified, board-certified plastic surgeon to assess individual risks and benefits.
Below are some of the health risks most commonly associated with Brazilian butt lift surgeries:
Infection. As with any surgical procedure, there's a risk of infection post-operation, which can sometimes be severe.
Fat embolisms. One of the most serious risks is a fat embolism, where fat is inadvertently injected into a blood vessel and travels to the lungs or brain, which can be fatal.
Blood clots. A deep vein thrombosis (a blood clot in the leg) and a pulmonary embolism (a blood clot in the lung) are potential complications of a BBL, particularly if the patient doesn't move around enough after surgery.
Hematomas or seromas. Accumulation of blood or fluid under the skin can occur, requiring further treatment.
Scarring. While generally minimal, scarring is still a risk and can vary depending on individual healing responses.
Asymmetry. There's a risk that the procedure could result in an uneven or unsatisfactory appearance, requiring further surgery to correct it.
Nerve damage. Though rare, the procedure could result in nerve damage, leading to numbness or other sensory changes.
Skin necrosis. Insufficient blood supply to the newly transferred fat can lead to tissue death, requiring additional treatment.
Psychological effects. Unmet expectations or surgical complications can result in emotional and psychological distress.
Death. Although rare, death is a potential risk associated with Brazilian butt lift surgeries, primarily due to complications like fat embolism or severe infection. It's crucial to understand that while the chances are low, the risk does exist.
Please note: It's difficult to predict with certainty how any individual's body will respond to surgery. Factors such as your medical history, current health condition, and the surgeon's skills can influence the outcome.
It's also crucial to be aware that some complications may not be immediately apparent after the procedure.
That's why thoroughly researching and choosing a board-certified plastic surgeon with extensive experience in this field is essential. You should also be sure to have the procedure done at a reputable facility with a safe track record.
If you've experienced complications or injuries due to a BBL procedure or are concerned about the quality of the medical care you received, please know that you may have legal recourse.
Your well-being matters, and we're committed to advocating for your rights during this challenging time.
Understanding the time limits for filing medical malpractice claims in Florida
In Florida, the statute of limitations for medical malpractice cases is 2 years from the date of the alleged medical negligence. This means that, generally speaking, you have up to 2 years to file a lawsuit seeking compensation for injuries resulting from medical malpractice.
However, Florida law also allows for a medical malpractice claim to be filed within 2 years from the date the injury was discovered or should have reasonably been discovered. This recognizes that in some cases, injuries resulting from medical malpractice might not be immediately apparent, and it allows victims a reasonable period to take legal action once the damage becomes known.
There are exceptions to these timelines, particularly in these circumstances:
Children under 8 years old. Because some birth injuries may not be evident until a toddler or young child starts showing signs of a developmental delay (which can take years), Florida law gives parents up until their child's 8th birthday to file a birth injury lawsuit.
Medical provider fraud. If a medical provider's actions involve fraud, deceit or misrepresentation or intentionally conceal information related to the malpractice, the statute of limitations may be extended.
In such cases, the 2-year discovery rule might not apply, allowing victims to pursue a claim even after the standard time limits have passed.
Financial compensation for medical malpractice victims
When victims of medical malpractice pursue compensation, there are various types of damages they might be eligible to receive:
Economic damages include medical expenses, lost wages and other quantifiable financial losses resulting from the malpractice. Learn more about Florida's economic damages.
Non-economic damages cover intangible losses such as pain, suffering, emotional distress and loss of enjoyment of life.
Punitive damages may be awarded in cases of extreme negligence or intentional harm to punish the responsible party and deter similar behavior in the future.
The tragic outcomes of some BBL procedures serve as a stark reminder of the potential risks of pursuing cosmetic surgery. While the desire for enhancement is understandable, ensuring one's safety and well-being should always be paramount.
Talk to our Miami injury attorney
Medical procedures should enhance your well-being, not jeopardize it.
If BBL-related issues have injured you or someone you know, seeking legal counsel is crucial to understanding your rights and seeking justice.
In cases where the unthinkable occurs and a Brazilian butt lift procedure results in a tragic loss of life, know that legal options are available to pursue justice for your loved one.
Wrongful death due to medical malpractice demands accountability, and we are committed to helping you navigate this difficult path. 
Redondo Law is proud to offer free consultations in both English and Spanish to answer your questions and provide you with the information you need to make the best possible decisions for your unique situation.