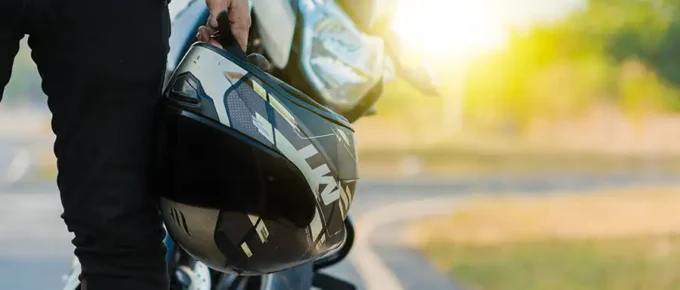 Learn how to prove negligence and recover maximum compensation in motorcycle accidents involving road rash
In the sun-soaked streets of Miami, Florida, motorcycles are as common a sight as the ocean waves and palm trees that define the city landscape. While the allure of the open road is undeniable, it's important for riders to be aware of the risks involved—specifically, the hazard of road rash. 
Road rash, which occurs when a rider is ejected and skids across the asphalt, isn't just a minor scrape; it can lead to serious complications that require extensive treatment. This article will help you understand when road rash requires medical attention and how to protect your rights to compensation after an accident caused by someone else's negligence.
Did you know?
According to data from Florida Highway Safety and Motor Vehicles (FHSMV), in 2022 alone, there were 9,252 motorcycle crashes in the Sunshine State, resulting in 598 fatalities. In Miami-Dade County specifically, there were 1,197 motorcycle accidents and 45 fatalities that same year.
What is road rash?
Road rash is a skin abrasion or series of abrasions that occur as a result of friction between the skin and a surface, typically the road. It's a common injury among motorcyclists who are thrown off or fall from their bikes and slide or skid along the ground.
The extent of the injury can vary from mild scrapes to severe abrasions that damage deeper layers of the skin, potentially exposing underlying tissues, muscles or bones. Road rash is often characterized by a "burn-like" appearance, redness and swelling. Oftentimes, dirt, debris or gravel is also embedded in the wound.
The severity of the injury depends on multiple factors, including the speed at which the individual was traveling, the type of clothing worn, and the nature of the surface on which they slid.
What does bad road rash look like?
Bad road rash can be quite severe and is characterized by deep abrasions that may expose the underlying layers of skin, fat, muscle and even bone. The wound often appears "grated," with a rough, uneven texture, and is usually accompanied by significant pain, swelling and inflammation. The area around the rash may be bruised or discolored, and there might be debris like gravel, dirt or glass embedded in the wound.
Such severe cases of road rash often require medical attention to clean and dress the wound, or even surgery to repair deep tissue damage. Additionally, there's a high risk of infection and scarring with severe road rash, making prompt treatment essential.
What are traumatic tattoos?
Traumatic tattoos are markings on the skin that result from road rash when foreign substances like dirt, asphalt or other particles get embedded in the skin due to some form of trauma, such as abrasions, lacerations or puncture wounds. They're typically uneven and discolored and won't fade on their own over time, so they often require surgery or specialized laser treatments for removal.
When should I go to the ER for road rash?
In general, you should seek emergency medical attention for road rash treatment in the following situations:
The wound is large, deep or has debris embedded that you cannot remove.
There's exposed muscle, bone, or fat.
The wound shows signs of infection, such as redness, increased warmth, swelling, pus or a foul odor.
The pain is severe or worsening.
You're experiencing symptoms of shock such as rapid breathing, weakness, bluish skin or altered consciousness (like confusion).
You haven't had a tetanus shot in the last 5 years or are unsure of your tetanus status.
You have underlying health conditions like diabetes that could complicate healing.
This list is not exhaustive, and if you have any concerns about a road rash injury, it's always better to err on the side of caution and seek medical attention.
What serious health complications can result from road rash?
Severe cases of road rash can't be ignored, as they can lead to serious health issues that can affect your quality of life, including the following:
Infection leading to sepsis. An untreated or poorly managed road rash infection can escalate into a life-threatening condition called sepsis, which is the body's extreme response to infection. Immediate medical intervention is essential for treating sepsis, as it can quickly lead to tissue damage, organ failure and even death.
Nerve damage. Severe cases of road rash can affect not just the outer skin but deeper tissues, potentially causing nerve damage. This can result in long-term or permanent issues such as numbness, tingling or even functional impairment in the affected area.
Impaired mobility. Significant road rash can lead to the formation of scar tissue that can affect joint flexibility and limit movement. Physical therapy may be needed to restore the full range of motion, and in severe cases, surgical intervention might be required.
Chronic pain. Sometimes, a severe road rash injury can result in persistent pain that continues long after the wound has technically healed. This chronic pain can interfere with daily activities and reduce the overall quality of life, necessitating long-term pain management strategies.
If you're suffering from one of these serious health complications after a catastrophic accident in Miami caused by someone else's negligence, it's crucial that you contact an experienced motorcycle accident attorney to help you get the compensation you need to pay for your future medical care and other long-term expenses.
How do you prove liability in a motorcycle accident?
Proving liability in a motorcycle accident involves demonstrating that another party was at fault for the accident and that their negligence led to your injuries. Here's a step-by-step outline of how to prove liability if you were injured in a motorcycle accident:
Establish duty of care. The first step is to establish that the defendant (usually another motorist) owed you a duty of care on the road. This is generally straightforward, as all drivers have a legal obligation to operate their vehicles safely.
Prove breach of duty. Next, you'll need to show that the defendant breached that duty of care. This can be proven by presenting evidence that the defendant was speeding, ran a red light, was distracted, or in some other way failed to adhere to safe driving practices.
Prove causation. After establishing a breach of duty, you must prove causation—that the defendant's negligence directly resulted in your injuries. Medical records, accident reconstruction and eyewitness testimony can be used here.
Show damages. Finally, you'll need to demonstrate the extent of your injuries and other losses. Medical bills, repair bills for your motorcycle, lost wages and other documentation can serve as proof of the damages you incurred.
Given the complexity of these cases, especially if severe injuries like road rash are involved, it's beneficial to hire a skilled attorney to help gather evidence, consult experts, and advocate for you in settlement negotiations or court.
How can motorcycle bias impact a personal injury lawsuit?
Motorcycle bias is the preconceived notion that motorcyclists are inherently more reckless or risk-prone compared to drivers of other vehicles. This stereotype can make it more challenging to prove liability in a motorcycle accident case for several reasons.
Police officers who arrive at the scene may also have preconceived notions about motorcyclists, potentially affecting the way they conduct their initial investigation, gather evidence or write the accident report.
Additionally, eyewitness accounts might be colored by the same biases, meaning their recollection of events may unconsciously downplay or ignore actions by the car driver that contributed to the accident.
Sadly, insurance adjusters often use this bias to pressure injured motorcyclists into accepting lower settlements, convincing them that any jury would be biased against them, thereby reducing the chances of a large payout.
Because of these biases, it's crucial to gather as much objective evidence as possible to prove liability. This can include traffic camera footage, thorough accident reports, and testimonies from unbiased experts in accident reconstruction.
An experienced personal injury attorney can be invaluable in these situations, as they can help counteract biases and present your case in the most favorable light.
Get help from an experienced Miami motorcycle accident attorney
If you've been injured in a motorcycle accident caused by someone else's negligence, you need an experienced motorcycle accident attorney to fight for your rights.
At Redondo Law, attorney Mike Redondo specializes in personal injury law and has a proven track record of success in motorcycle accident cases. He can help you find evidence to prove the other party's liability and negotiate with their insurance company to get you the money you rightfully deserve.
To better help his clients and increase access for anyone who's been injured in an accident, Mike speaks both Spanish and English and is happy to offer a free, comprehensive evaluation to potential clients.
Fill out the form below to get started.