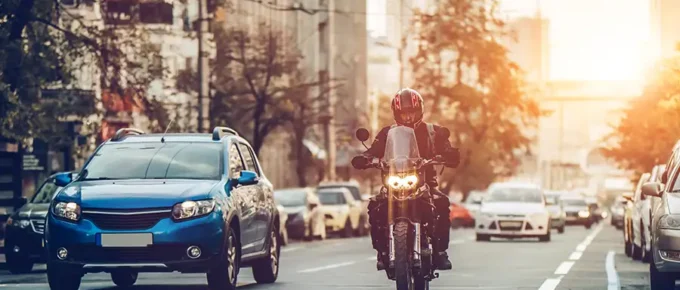 Why do motorcycle accidents differ so much from car accidents?
Size and visibility
By their very nature, motorcycles are smaller and less visible than cars. Riding on the vibrant streets of Miami, a motorcyclist can easily get lost in a driver's blind spot. This reduced visibility often results in car drivers claiming they "didn't see the motorcyclist" before the accident.
A motorcycle's compact size can also lead to more severe impacts, as there's less vehicle mass to absorb the force of a collision.
Protection and injury patterns
Motorcyclists are exposed. Unlike car drivers with seat belts, airbags, and a metal frame for protection, motorcyclists have little between them and the road.
Even with helmets and protective gear, the likelihood of direct trauma, abrasions, or "road rash" is high. Furthermore, the absence of a protective shell means motorcyclists are more susceptible to direct hits from other vehicles, leading to more severe and diverse injury patterns.
Legal considerations
When it comes to the legal landscape, motorcycle accidents present unique challenges. Since injuries are often more severe, the medical expenses and potential compensation can be substantial. Moreover, the bias against motorcyclists can play a role in court, with some juries holding preconceived notions that motorcyclists are "risk-takers" or "reckless," which can affect the outcome of a case.
Did you know?
"Contributory negligence" refers to a situation where the injured party may have also contributed to the accident. 
Basic principle: If you're partly at fault for your injury, you can still recover damages in Florida, but the percentage of your fault will reduce the amount you receive. For example, if you're awarded $100,000 in damages but are found to be 25% at fault, you'd receive $75,000.
Here's a big exception – if you're found to be more than 50% at fault for your injury, you can't recover any damages. However, this doesn't apply to cases of medical negligence.
For example, if a motorcyclist is found partly at fault for not wearing a helmet or not following traffic rules, their compensation might be affected. Understanding these nuances is vital when pursuing a claim.
What can happen to motorcyclists in a crash?
Motorcyclists face unique risks in the hustle and bustle of locations like Miami's Miracle Mile or the Brickell City Centre. Without the protective shell of a car, they're more vulnerable to a myriad of injuries:
Legal considerations: Making sense of post-accident procedures
Post-accident legalities can feel like navigating Miami's streets during a rush hour gridlock. But, much like having a map of the city, understanding some legal nuances can smooth the path:
2 YEARS
Time is of the essence after a motorcycle accident in Florida. For most personal injury claims stemming from these accidents, you have only 2 years from the incident date to file a lawsuit.
Fault assessment: Unlike the clearer scenarios in many car accidents, motorcycle accidents can present a more ambiguous picture.
Motorcyclists often face biases, with many assuming they are inherently reckless or aggressive. These misconceptions can influence how fault is determined, sometimes unfairly placing blame on the motorcyclist.
Having a knowledgeable attorney can ensure that biases don't cloud the true sequence of events.
Damage claims: Motorcyclists frequently suffer from more severe injuries in accidents due to their vulnerability on the road. This means medical bills, recovery periods, and long-term care needs can far exceed those seen in standard car accidents.
Consequently, damage claims in motorcycle accidents tend to be larger, encompassing immediate medical expenses and potential long-term rehabilitation and lost wages.
Insurance policies: When it comes to insurance, not all policies are created equal. Motorcyclists often have different insurance coverage limits, exclusions, and stipulations compared to car drivers.
These nuances can significantly influence the compensation process. For instance, a policy might offer coverage for medical expenses but might exclude certain types of injuries or scenarios. Being familiar with the specifics of motorcycle insurance is crucial when seeking compensation.
The aftermath of an accident can be overwhelming. Still, navigating the legal maze becomes a more manageable journey with the right information and guidance.
How much compensation can you expect for a motorcycle injury?
While looking for a definitive dollar amount when estimating compensation for motorcycle injuries is tempting, the reality is more nuanced. Compensation depends on various factors and the severity of the injury and damage.
It's essential to understand that each case is unique. Factors like the specifics of the accident, insurance policy limits, state-specific laws, and even the jury's perspective can influence the final compensation amount.
Types of damage awards
Economic damages
Economic damages are intended to compensate for financial losses that are easily quantifiable and can be proven through bills, invoices or wage statements.
Essentially, these damages aim to reimburse the injured party for concrete financial losses they have incurred or will incur due to their injury.
Non-economic damages
Non-economic damages, on the other hand, compensate for losses that are more subjective and difficult to put a specific value on. These include things like pain and suffering, emotional distress, loss of companionship and reduced quality of life.
Unlike economic damages, no bills or receipts can easily establish the worth of these injuries. Determining their value is often a complex task that requires expert testimony and is ultimately up to the discretion of the jury or judge.
Why precaution is essential in motorcycle safety
Riding a motorcycle offers an unparalleled sense of freedom, but with that comes inherent risks. Safety should always be a motorcyclist's top priority, especially when navigating the bustling streets of Miami.
Wearing appropriate gear, including a DOT-approved helmet, can make a significant difference in the outcome of an accident. Equally important is staying updated with the latest safety practices and being aware of common road hazards.
Defensive driving, understanding the limitations of your motorcycle, and ensuring you're visible to other road users are all vital aspects of staying safe.
Knowledge is power, and being informed can prevent accidents or reduce their severity.
Why a local Miami personal injury attorney matters
In the aftermath of an accident, having someone who understands both the local legal landscape and the unique challenges of motorcycle incidents is invaluable.
A Miami-based personal injury attorney is familiar with the law and the community, roads, and local considerations that can influence your case.
At Redondo Law, our local expertise ensures that you're represented and truly understood. As you navigate the complexities of recovery, having us by your side can make all the difference.
Call or fill out our contact form below to schedule your free consultation.