Head-on collisions pose a significant danger on Florida roads, causing severe injuries and putting lives at risk. These devastating accidents occur when two vehicles collide front-to-front, often at high speeds. The impact from a head-on collision can lead to catastrophic injuries, including traumatic brain injuries, spinal cord injuries, broken bones and even loss of life.
If you or a family member has suffered injuries or lost their life in a head-on collision, please understand that you don't have to face this challenging situation on your own. Experienced Miami auto accident attorney Mike Redonodo is here to provide assistance and support.
The dedicated team at Redondo Law is well-versed in navigating the complex medical and legal aspects associated with serious crash cases. With our knowledge, skills and expertise, we're committed to helping you explore the best options available for your financial recovery during this very difficult time.
Statistics for head-on collisions
According to data from the Federal Highway Administration, head-on collisions in which one or both vehicles cross an edge or center line were responsible for approximately 27% of all car crash fatalities between 2018 and 2018.
The perils of head-on collisions
Head-on collisions are one of the most dangerous types of car crashes. When the front end of a vehicle strikes another object, it puts the driver in the direct line of fire for injury. When you have a head-on collision between 2 vehicles, those injury risks are doubled.
Another deadly aspect of head-on collisions involves the physics behind motion and speed. If one car is going 40 miles per hour and another is going 50 miles per hour, their combined impact will generate forces equivalent to 90 miles per hour.
It's much more kinetic energy than a car striking a stationary object going zero miles per hour. A head-on collision with another moving vehicle will mimic a high-speed car crash even in a scenario where both drivers were using moderate speeds.
Common causes of head-on collisions
Head-on collisions are often the result of driver error, including:
Driving on the wrong side of the road
Distracted driving (e.g., texting while driving)
Swerving to avoid obstacles
Blindly or wildly turning
Attempting to pass others on the road
Falling asleep behind the wheel
Being impaired by drugs and alcohol
That said, head-on collisions can also be the result of mechanical failures, such as tire blowouts or power steering outages, or from environmental conditions, such as poor visibility in bad weather.
Common injuries that result from head-on collisions
Head-on collision injuries tend to be the most severe. As previously established, frontal collisions are one of the deadliest types of traffic accidents.
Common injuries include:
Whiplash
Broken bones
Concussions
Blunt force trauma
Neck and spinal cord injuries, including paralysis
Traumatic brain injuries
Cuts and contusions
Post-traumatic stress disorder (PTSD)
What is the main cause of death in a head-on collision?
Head-on collisions can be fatal for any number of reasons, including:
Internal injuries
Spinal cord injuries
Organ failure
Blood loss/shock
Traumatic brain injury (TBI)
There are no statistics regarding the exact causes of death for head-on collisions, but they're known to be more severe than other types of crashes due to the frontal nature of the collisions and the buildup of kinetic energy between them.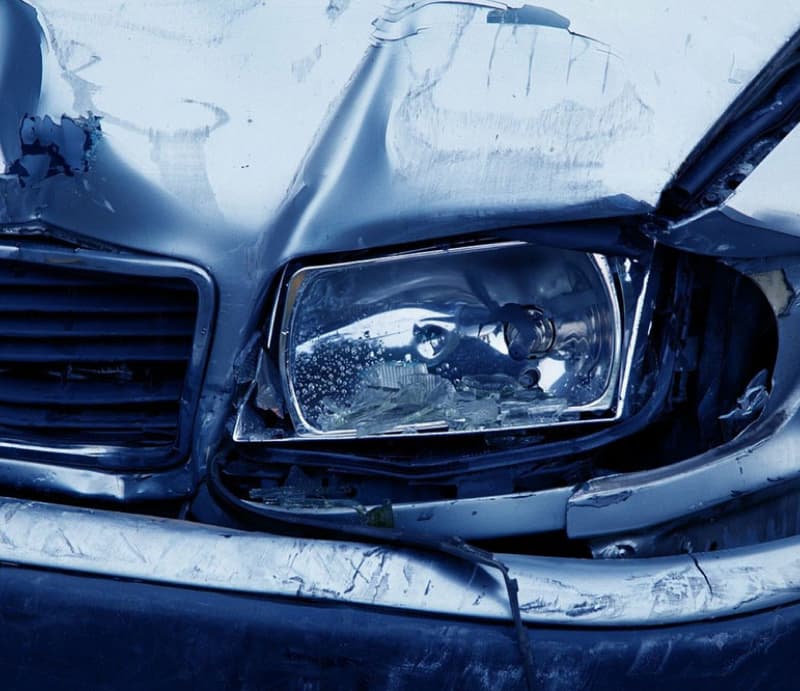 Head-on collisions in Miami
Miami traffic has seen its share of head-on collisions.
In 2023, a man veered across a causeway and caused a frontal collision that left a woman dead and traffic shut down for hours. He was later arrested on drug charges.
In 2022, another Miami head-on collision made headlines when a driver going the wrong way crashed into a vehicle carrying 5 people. They were all between the ages of 18 – 25, and all five 5 on the scene.
What types of compensation are available after a head-on collision through a personal injury lawsuit?
In Florida, personal injury lawsuits can lead to the following types of compensation:
Economic damages. This includes compensation for financial losses, such as medical treatment, lost wages, vehicle repair and other monetary benefits.
Non-economic damages. This includes compensation for nonmonetary losses, such as pain and suffering, emotional distress or loss of companionship.
If you can prove malice or gross negligence from the other driver, you might also be entitled to punitive damages.
How do you establish fault in a head-on collision?
In a head-on collision, fault is usually assigned to the driver who was going the wrong way or suffering the malfunction that led to the crash. There can be exceptions, however, which is why it's important to hire an experienced car accident attorney to help you establish liability.
Legally speaking, liability is something that comes from a "duty of care" that one party has to another. On the road, all drivers assume a duty of care to be alert, sober and law-abiding.
If a driver fails in any of these areas, they can be considered in breach of their duty of care, and their negligence can be used as the basis for your personal injury lawsuit.
What if I'm partially at fault for an accident in Florida?
Florida is a "no-fault" state for car accidents, meaning that you and the other driver will both file insurance claims with your own insurance company regardless of who's at fault. However, this "no-fault" policy doesn't extend to lawsuits involving catastrophic injuries or wrongful death.
In these cases, Florida uses something called comparative negligence to establish fault in car accidents. This means that your amount of fault will be assigned a percentage value, and any damages that you seek in a lawsuit will be reduced by that percentage.
So if you would have been awarded $50,000 in damages, but a judge determines you were 10% at fault for the accident because you were driving 5 miles over the speed limit, your final compensation would be reduced by your percentage of fault, which in this case would mean you'd be entitled to $45,000 ($50,000 minus $5,000 or 10%).
What are my legal options if the other party has no insurance?
As long as you have the minimum required Florida car insurance, your personal injury protection (PIP) insurance will cover up to $10,000 in damages (up to 80% of your medical bills and up to 60% of your lost wages) regardless of the other driver and their own insurance situation.
Aside from PIP, if you purchased uninsured/underinsured coverage as part of your auto insurance, you can also tap into that for things like medical bills and lost wages. However, this coverage does not cover damage to your vehicle.
Last but not least, you can file a personal injury lawsuit against the other driver. Their insurance status doesn't matter. If you can prove that they were negligent, you can seek a settlement against them, although it can be difficult to collect damages from an uninsured driver who doesn't have significant assets.
What steps should I take after a head-on collision?
If you're involved in a head-on collision, you should take the following steps (as long as you're physically able to do so):
Call emergency services for help and to obtain a police report of the incident.
Take photos and gather witness statements and contact information.
Save all documentation related to your medical and repair bills.
Submit a claim to your insurance company.
Contact a car accident attorney to protect your rights and learn about your financial options if you suffered significant injuries in the crash.
Contact an experienced Miami head-on collision attorney
If you or a loved one has suffered serious injuries or death after a head-on collision in Florida, you need the expertise of a skilled car accident attorney to help you prove liability and collect maximum compensation.
At Redondo Law, Miami personal injury attorney Mike Redondo spent the early years of his career representing insurance companies to limit their liability in personal injury lawsuits. Now, he uses that experience to maximize settlement awards and judgments for accident victims like you.
Redondo Law proudly serves both English and Spanish-speaking clients across Miami-Dade County and South Florida, ensuring language won't be a barrier in your pursuit of justice.
Contact us today for a free consultation of your case.