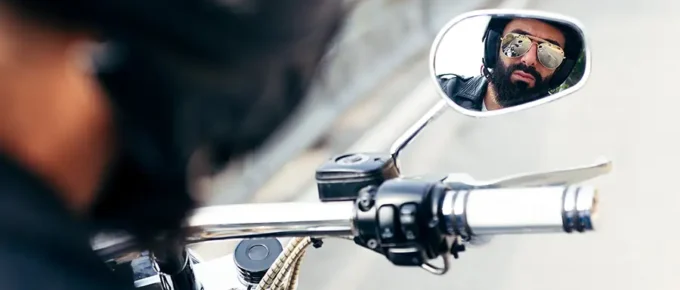 Learn about the risk of facial injuries in motorcycle accidents and your legal options in Miami
Riding a motorcycle through the bustling streets and scenic routes of Miami, Florida, can offer an exhilarating sense of freedom. However, this freedom comes with inherent risks, one of the most alarming being the susceptibility to severe facial injuries.
Even with the most careful driving, motorcycle riders are exposed to a higher degree of danger compared to car drivers, primarily due to the lack of protective barriers. Whether it's collisions with other vehicles, skidding on the road, or simply losing control, the impact often leaves riders with devastating facial injuries that can have long-lasting repercussions, both physically and emotionally.
This article will discuss common facial injuries and explain your right to compensation after an accident caused by another driver's negligence.
How common are facial injuries in motorcycle crashes?
In one study by the U.S. Department of Transportation involving more than 43,000 motorcyclists who were hospitalized after a crash, 7,350 sustained facial injuries, or about 17%.
Notably, facial injuries were far more common among riders not wearing helmets, affecting 9.2% of hospitalized riders compared to only 5.7% of hospitalized riders who were wearing helmets at the time of their accidents.
This data suggests that helmets are about 37% effective at preventing injuries to the face during a motorcycle crash.
Are Florida motorcycle riders required to wear a helmet?
Florida law allows riders over the age of 21 to operate or ride on a motorcycle without wearing a helmet, provided they have at least $10,000 in medical insurance coverage to cover potential injuries. However, riders under the age of 21 are required to wear a helmet that meets federal safety standards.
Given the risks associated with motorcycle riding, such as the increased risk of severe head and facial injuries, wearing a helmet is generally considered a good safety measure, even if it's not legally required for those over 21.
What are the most common facial injuries in a motorcycle accident?
Facial injuries can range in severity from minor abrasions to life-altering conditions, emphasizing the importance of protective gear like full-face helmets and the necessity of exercising caution while riding.
The most common facial injuries sustained in motorcycle accidents include the following:
Lacerations and abrasions. Sharp objects, shattered glass or contact with the road can result in cuts and scrapes on the face.
Broken bones. High-impact crashes can lead to fractures in facial bones such as the jaw, cheekbones and orbital bones around the eyes.
Dental injuries. Accidents can cause teeth to crack, break or be completely knocked out.
Nose injuries. The nose is particularly vulnerable to breaks and fractures due to its protruding position on the face.
Soft tissue damage. Muscles, ligaments and skin can suffer contusions or more severe damage, including avulsions (tearing off of a piece of skin or an ear) or road rash.
Eye injuries. Direct trauma can lead to issues like retinal detachment, corneal abrasions or even blindness.
Burns. In more severe accidents, especially those involving fires or hot engine parts, facial burns can occur.
Disfigurement. In extreme cases, the impact and resulting injuries can lead to permanent facial disfigurement.
What is the most common symptom of a facial injury?
Pain is often the most immediate and common symptom experienced after sustaining a facial injury in a motorcycle accident. It can also be accompanied by other symptoms, such as:
Swelling
Bruising
Bleeding
Numbness or tingling if nerves have been damaged
Difficulty moving facial features like the jaw or eyes
Visible deformity or misalignment of facial structures (common with fractures)
When should I be concerned about a facial injury?
Determining the severity of a facial injury often requires a combination of close observation and medical evaluation. Some immediate signs that a facial injury may be serious include:
Excessive bleeding that's difficult to control
An obvious deformity, such as broken or dislocated bones
Difficulty breathing or compromised airways
Loss of vision, double vision, or any other significant eye problems
Uneven or dilated pupils
Clear fluid (which could be cerebrospinal fluid) leaking from the nose or ears
Significant swelling or bruising
Inability to move facial muscles, suggesting possible nerve damage
Altered consciousness or obvious signs of neurological issues like slurred speech or confusion
If you experience or observe any of these signs following a facial injury, it's crucial to seek immediate medical attention, as a prompt diagnosis and treatment are essential for preventing further complications and optimizing the chances of a full recovery.
What complications can result from facial injuries?
Serious health complications of facial injuries can range from functional to life-threatening issues.
Airway damage, often resulting from a broken nose or other facial fractures, requires immediate medical attention if it causes swelling that interferes with the nasal passageways, which can make it difficult for a person to breathe.
Neurological problems are also a serious concern, particularly when the facial injury is associated with head trauma that impacts the skull and brain. Emergency room doctors often look for symptoms such as uneven pupils or leaks of clear cerebrospinal fluid from the nose as signs that the central nervous system is involved.
Internal bleeding is another issue to watch out for, as it can increase pressure within the skull, putting sensitive structures like the eyes, brain and nerves at greater risk for further injury.
Immediate and specialized medical attention is crucial for diagnosing and treating these complications.
How long does facial trauma take to heal?
The time it takes for facial trauma to heal depends on multiple factors, including the type and severity of the injury, the specific structures involved, and the individual's overall health.
Minor injuries like bruises or superficial cuts may take only a few days to a couple of weeks to heal. More severe trauma, such as fractures or extensive lacerations, could take weeks or months. Surgical interventions for serious facial fractures or reconstructions may add to the healing time and often require subsequent physical therapy to restore full function.
If nerve damage is involved, the healing process can be even more protracted and may take several months or even years. Some nerve damage may even be permanent. Likewise, injuries that involve other sensitive structures, like the eyes or airways, may require specialized and prolonged treatment.
It's important to note that while physical healing can occur within a relatively predictable timeframe, emotional or psychological trauma related to the injury may take additional time to address.
Recovering compensation for facial injuries after a motorcycle accident
Because of the complexity and individual nature of facial trauma after a motorcycle accident, it's crucial to discuss your case with an experienced motorcycle accident attorney who can explain your rights and help determine the amount and types of damages that may be available.
While compensation in these cases can vary, it typically covers economic damages like medical bills, future medical care, lost wages and property damage. You may also be eligible for non-economic damages, which could include pain and suffering, emotional distress, and decreased quality of life. In cases where the at-fault driver showed extreme disregard or recklessness, you may be eligible for punitive damages as well.
The process for obtaining compensation requires you to prove the other party's negligence. This involves establishing that the other party had a duty of care toward you, that they breached this duty, and that this breach directly resulted in your injuries.
You'll need to gather evidence to support these claims, which could range from police reports and witness statements to traffic camera footage and expert testimonies. Negligence can manifest in various forms, such as speeding, driving under the influence, texting and driving, or failing to yield the right of way.
Successfully demonstrating negligence is often a complex task requiring a thorough understanding of the law and procedure, which is why many victims opt to hire a personal injury attorney to help with the process.
Get help from an experienced Miami motorcycle accident attorney
The services of a skilled personal injury attorney can be invaluable in navigating the complexities of a motorcycle accident lawsuit, especially if you're dealing with catastrophic injuries and high medical bills.
At Redondo Law, attorney Mike Redondo can give you an estimate of how much your case should be worth, gather evidence to prove liability and handle all negotiations with the other party's insurance company to ensure you get the compensation you deserve.
Contact his office today using the form below to schedule your free consultation and learn more about your legal options.
References
Motorcycle Helmet Use and Head and Facial Injuries Crash Outcomes in CODES-Linked Data. (2009). https://crashstats.nhtsa.dot.gov/Api/Public/ViewPublication/811208